Details

Nicole Haasbroek
VILLEJUIF, France - After three days of dominated play Chinese Panjing Song rightfully takes first place at "Chow Time - In Vino Veritas" (MERS1), scoring 33 table points and 754 mini points. Her husband, General Secretary of the 'Mahjong International League' Wenlong Li, is the runner-up with 29 table points and 820 mini points. French Aymeric Bouvet claims third place with 27 table points and 536 mini points.
Details

Nicole Haasbroek
GODALMING, United Kingdom - Chinese player Yihe Lu, runner-up of the 2015 edition, has convincingly won the UK Open Riichi Tournament 2017 (RERS2), with 179,100 points. Second place goes to Michael Donaghy, scoring 129,700 points. Ryo Fukaura took third position, with 126,300 points, overtaking Jason He by 200 points! Forty players (seven nationalities) competed for two days in eight hanchans at the picturesque town of Godalming, near Guildford.
Read more: Yihe Lu Concinvingly Wins UK Riichi Open Tournament 2017
Details

Vitaly Novikov
NOVOSIBIRSK, Russia - First in "Siberia" zone of Russia RERS tournament "Siberia Cup 2017" was won by Vitaliy Meshin from Novosibirsk who accumulated 88,700 points after 8 sessions. Runner-up is Sergey Zarubin from Bratsk, 3rd prize goes to Alexander Filippov from Novosibirsk. This RERS-1 tournament gathered twenty-four players from five Siberian cities of Russia.
Details

Nicole Haasbroek
AACHEN, Germany - Unstoppable French player Joe-Calberson Huynh takes first prize at the "Aachen Riichi Open" (RERS1) scoring 152,600 points, fellow 'Tri Nitro Tiles' club member Antoine Rossard comes in second with 120,600 points, and Dutch Nicole Haasbroek claims third position with 104,100 points.
Read more: Unstoppable Joe-Calberson Huynh Takes Aachen Riichi Open (Again!)
Details

Vitaly Novikov
IVANOVO, Russia - Ilya Monakov accumulating 135,900 points after 8 sessions was the best in Ivanovo Region Riichi 2017,  RERS-1 tournament which gathered twenty-eight players from eight cities in Russia. Runner-up is Vladimir Bogdanov, 3rd prize goes to Oxana Vyshivannaya. All the winners are from Moscow.
Details

Xinhua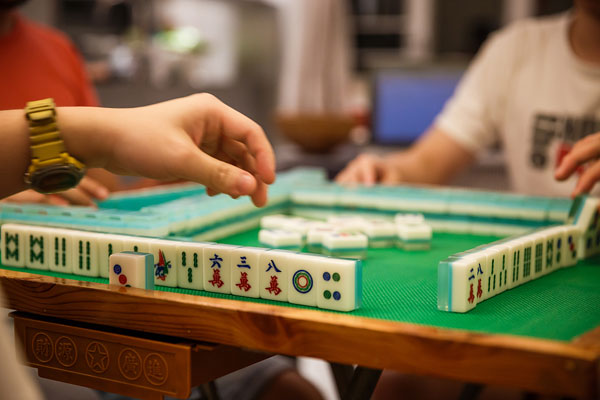 BEIJING, China - It's being reported that the ancient Chinese game of mahjong could possibly be included in the sporting program of the 2022 Beijing Olympic Winter Games. But Chen Zelan, president of International Mind Sports Association (IMSA) played down the rumors here on Thursday, saying it remains a remote possibility at the moment, since mahjong has not yet been recognized by the International Olympic Committee (IOC). Chen said that the IMSA is making efforts for the Olympic recognition of mind sports, yet they still have to do more to achieve this goal. She added that mahjong now is not officially recognized as a sport even in China.
[Mahjong News Editor's note: In January of 1998, the State Sports Commission of China officially recognized mahjong designating it as the 255th sport].